The Audio Meeting Platform
Your platform to build a healthy and positive digital culture. Connected employees scale up your business, so investing in culture pays off.
We contribute to team progress by empowering employees to express themselves, live in the moment, learn about the world, and have fun together.
Hiqh Quality Audio
Low Latency and Energy
High Security and Privacy
We enable new kinds of digital business and work communication that help you get your message across through instantly shareable audio.
56%
Higher Productivity
Harvard Business Review, 2019
21%
Higher Profitability
Gallup, 2019
50%
Less Turnover Risk
Harvard Business Review, 2019
Features
Offer an unique experience to your employees and let them choose which meetings to attend and to drop in.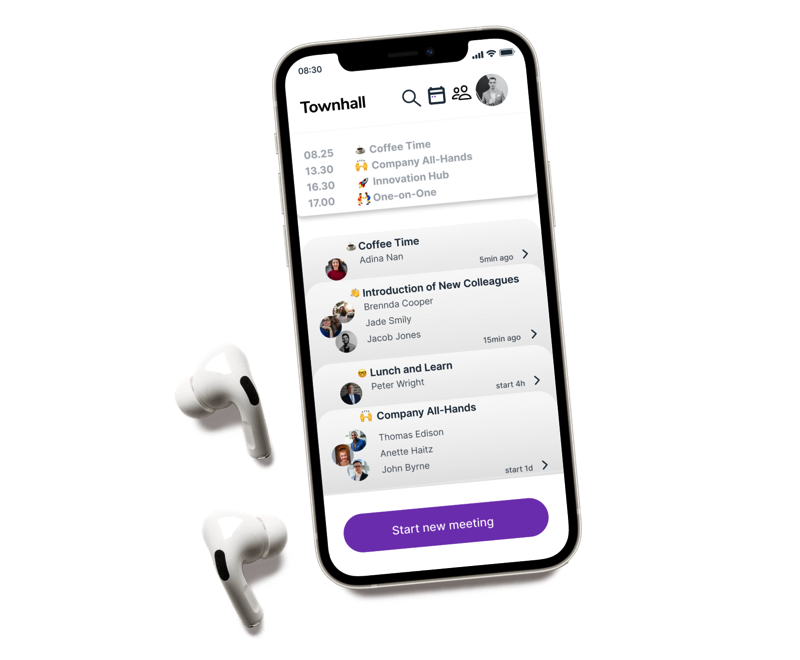 Join Rooms
Easily drop in audio rooms with a single tap on them.
Create Rooms
Empower your users to create audio rooms for topics they want to discuss.
Unmute
Start meetings muted but raise your hand and unmute yourself to share your thoughts.
Mute
You decide to stay muted and listen closely to your colleagues or join the discussion actively.
Pricing
We are offering fair pricing based on your needs. Just let us know your company's e-mail domain(s) and we will set up the access for your employees. Please contact us even for the free tier where you will have shared access to our demo and test environment together with other companies that use the free tier.
Free
€0/user/mo
High-Quality Audio Meetings

Separated Company Space

Dedicated Support
Try FREE
Pro
Contact Us
High-Quality Audio Meetings
Separated Company Space

Dedicated Support
Get a Quote
Enterprise
Contact Us
High-Quality Audio Meetings
Separated Company Space
Dedicated Support
Get a Quote
Use Cases
🙌 All-hands


Purpose
Communicate directly to all employees at the same time.

Frequency
Monthly

Description
All-hands meetings, also known as Town Hall meetings, are a way for company management to meet and connect with all their employees. Typically, company town hall meetings are hosted by a member of upper management, either a CEO or a country/regional manager and are attended by all employees in a large conference room. Town Hall meetings are a critical part of engaging employees. But they have changed a lot. While being originally a platform for the management to reach out to the company, they now take on more interactive elements to promote two-way conversations between managers and employees.

All-hands is the format where your company addresses all employees at once. This option makes meetings easier to organize than ever before. People are invited to the dedicated channel at a specific time. The only variable is the place, because everybody can join through the mobile app. This gives people flexibility to listen to the important company communications, but also not miss out on other things they left pending. The "All-hands" option allows people to do multitasking, and listen while commuting, exercising or doing something around the house. At Townhall we provide state of the art audio transmission, so everyone will enjoy listening.

📚 Story Time


Purpose
Sharing success stories within the company.

Frequency
Daily (depending on company size)

Description
The possibility of sharing success stories is a way of keeping people connected and engaged, on one hand with the company's growth, and on the other as individuals within the community of colleagues. The story time format allows people to celebrate together, encourage each other and learn from each other. It's easier to accomplish goals with motivated people.

The best way to have your squad motivated is the exchange of positive energy between colleagues by telling inspiring stories, focusing on achievements, even small ones, and being grateful for the steps forward along the way. The story time keeps up the momentum by feeding this positivity and job satisfaction inevitably grows.

🔥 Fireside Chat


Purpose
Support the healthy exchange of ideas and the growth of interactions.

Frequency
Every two weeks

Description
A fireside chat is an informal yet structured interview between a moderator and one or more guests. It's a unique opportunity to uncover the speaker's personal stories and ideas. As with any conversation, a fireside chat is engaging only when it involves everyone, including the audience. That's where Townhall comes into play. It helps scale up the dialogue and enables the participants to join in and ask their questions.

☕ Coffee Bar


Purpose
Support direct and accidental interactions between colleagues.

Frequency
Daily

Description
The coffee corner is probably the most vivid place in a company for informal and accidental meetings between colleagues. Stimulating accidental interaction among peers is not really possible in fixed meetings, so at Townhall we included a special format where people can have a virtual coffee break together and enjoy a spontaneous talk just for the joy of caching up.

When asked what did they missed the most in home-office, many employees had answered that they missed the informal interaction to colleagues and that had raised their anxiety levels. "Let's grab a coffee together" is a tradition and a must!

🤓 Lunch&Learn


Purpose
Support sharing of information as an inspiration and a tool for growth.

Frequency
Weekly

Description
These informal training or development sessions take place while enjoying the lunch break, and each session typically lasts for between 30 to 45 minutes. Because they take place during lunch, they are generally voluntary and have a less formal atmosphere than a structured training session or seminar.

A lunch and learn session is an opportunity for co-workers from different teams to meet and share their skills and expertise. It could be a one-off session, where your new business manager outlines your company's sales strategy, as an example. Or it could be a course that takes place over several weeks, such as your development team teaching the basics of coding.

But lunch and learns don't have to focus on your core business activities. They can also offer a great platform to promote life skills like physical fitness or well-being, to publicize volunteering opportunities or your organization's charity work, or to engage with outside experts, for example.

Because they are optional, lunch and learn events are not suitable for mandatory legal training, for teaching essential core skills, or for sharing important information company-wide. That's why we conceived two different learning formats and have the knowledge hub as well.

The original idea of lunch and learn events was that the management would organize regular events, where generally food was paid by the company, as a way to keep employees engaged. The drawback for a physical lunch and learn is that they rule out remote workers and those who work part-time, and this can make these colleagues feel isolated or excluded. With Townhall, this session transforms into an instrument of inclusion.

If the company has a significant number of employees who work from home and in the same time care for small children or are on parental leave, then they can also participate, because usually these sessions overlap the lunch and sleeping time of young kids.

✍ Survey&Poll


Purpose
Measure satisfaction and well-being in real-time.

Frequency
Weekly

Description
Surveys and polls are very important to provide information about the general opinion or satisfaction of employees, but the never-ending questioners in traditional employee surveys performed twice a year are disliked both by the people who complete them and by people that need to analyses the data. That's why the trend in HR and internal communications has moved towards spot polls and pulse surveys — short, more frequent snapshots of mood and sentiment that provide head office, managers and employees alike with real-time actionable insights that can help them to improve their own and the organization's performance.

Asking for someone's opinions makes them feel recognized and valued as an employee. It also provides the business with ideas and perspective that might be lacking in head office, compared to the grass root data that can be gathered from departments, for example. Tapping into this is the ultimate win-win situation.

Using employee polls and surveys in your company may seem more centered on fun than function, however, employee polls and surveys provide a tool where people can easily engage with and give their opinion, without taking time from their general activities and therefore generating unnecessary distraction.

At Townhall this gives you the ability to set up a short poll and share it on the timeline to gather information and feedback from the entire team or select groups. Polls support team building, two-way dialogue at scale, and enable you to collect feedback in real-time.

👫 Team Chat


Purpose
Communicate within teams without hassle.

Frequency
Daily

Description
Some conversations are smoother by words, because everyone is able to voice their opinions and make themselves understood directly. At the end of the day this translates into a huge economy of time. However, your teams are organized, by project or by department, it's easy to find your squad.

The idea behind this format is to facilitate direct communication, but also leave the possibility to do something else in parallel. An audio meeting doesn't need so much preparation as a video meeting and also allows the participants to use their hands. Sometimes a quick discussion can bring back the alignment of the team and give traction to the project. Team chats can be planned but Townhall also fosters spontaneous organized ones.

🤼 One-on-One


Purpose
Direct communication between two colleagues.

Frequency
As often as necessary

Description
Sitting together on a regular basis helps people stay informed and build a relationship of trust.

Ben Horowitz accurately describes 1:1 meetings as the "free-form meeting for all the pressing issues, brilliant ideas, and chronic frustrations that do not fit neatly into status reports, email and other less personal and intimate mechanisms."

There are a couple of reasons why the one-on-one format is so valuable. It helps building a trusting relationship, staying informed and aligned, providing mutual feedback to help each other to grow, and addressing topics prone to getting lost in the shuffle (e.g. career development).

👋 Newbies


Purpose
Introduction of new employees and fast integration of them into the team.

Frequency
Monthly or even weekly (depending on company size)

Description
The first day at a new job can be nerve-racking and overwhelming. Between meetings, training sessions, and paperwork that needs to be filled out – there's a lot for new hires to process. If you're a stakeholder in the onboarding process, you need to help newcomers feel more confident and prepared. One of the best instruments for doing so is the newbie dedicated format. While workplace communication statistics say that 60% of employees don't read emails from HR, having a dedicated presentation space makes a difference, which demonstrates their significance for company culture.

It's an opportunity to introduce new employees to their future co-workers and establish a connection ahead of time. This helps new hires not only feel prepared for their first day on the job, but like they're an accepted part of the team, too. All of this helps lay the foundation for a successful and effective onboarding process. At Townhall it´s time to rise and shine for Newbies!

🍻 After Work


Purpose
Support the socializing between colleagues.

Frequency
Weekly

Description
After-work gatherings were invented in the Anglo-Saxon world and describe a celebration or event in the professional environment, that starts directly after the actual working day and part or the entire workforce participates. After work can take place on any day within the week, as you usually start around 6pm and also usually don't go into the night out of consideration for the next workday.

In theory, any casual party held in a professional setting can be considered as an after-work event. This could be a company party or a team party, for example. You may be celebrating a successfully completed project or the successful pitch of a project and want to spread motivation and good humor through this event at the same time.

🚀 Innovation Hub


Purpose
Provide a space for colleagues to share on their experiments.

Frequency
Weekly

Description
Innovation hubs aim to discover or create innovative technology solutions for companies to help them in a variety of ways, such as competing in a new market, acquiring customers at lower costs, a patent that the company files or developing new tools to do work more efficiently. In addition, they are a great opportunity to partner and experiment with other companies, without the constraints and distractions of the day-to-day business.

The idea behind innovation hubs is to provide kind of a safe space for people to experiment, make mistakes and explore new ideas. Moreover, they are vital places to foster ideas, collaborate, and learn fast, and therefore accelerate growth for employees and indirectly for the company.

At Townhall we believe that giving your squad a space for expression and inspiration is a great way to be connected to the company's direction and development. That often leads to people opening up and adding their own contribution.

🔎 Knowledge Hub


Purpose
Knowledge sharing by experts in a moderated environment.

Frequency
Every two weeks

Description
Knowledge sharing promotes the healthy, sustainable growth of modern businesses, regardless of industries. There are different ways prioritizing knowledge sharing can help keep any organization successful and thriving.

Research has found that practicing a skill is a more effective technique than simple theoretical learning. So while a best practices document might be a good thing to have on hand, knowledge sharing is most effectively done among colleagues rather than between one worker and a wiki that might be out of date or missing crucial tacit knowledge that's difficult to store in a database.

A healthy knowledge sharing culture is, in a way, employee retention insurance. Studies worldwide have shown that knowledge sharing initiatives, encouraged by a culture of learning and collaboration can naturally boost overall employee productivity. When employees can tap into a knowledge sharing culture, they are less likely to encounter bottlenecks and are more likely to productively collaborate and think innovatively. This can all lead to the creation of new customer solutions or product offerings, keeping your organization competitive and successful.

💫 And much more


There are a lot more use cases you can think of and use Townhall for. Give it a try now!
Contact
Please feel free to reach out to us. We are happy to hear from you.
Address
Stereofy GmbH
4 Karl-Schurz-Street
Stuttgart, BW 70190
Germany
Legal
CEO: Michael Zoelzer
Registered Office: Stuttgart
Court: Stuttgart HRB 769771
VAT: DE299371796